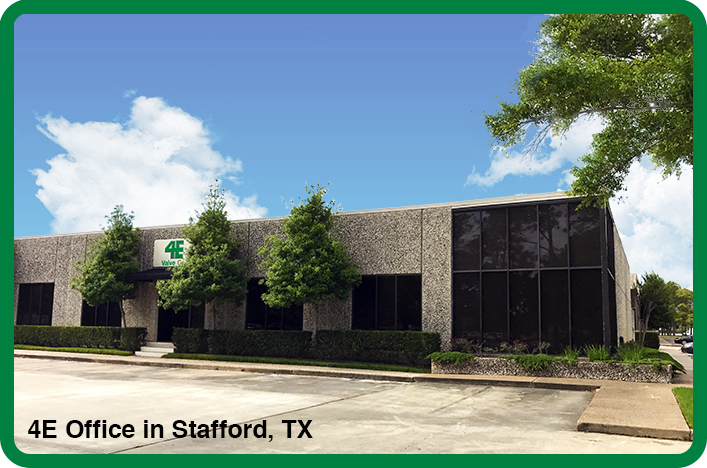 All 4E manufactured valves come with general liability coverage
4E VALVE is a Texas corporation company which was founded in 1993 in Houston, TX. U.S.A.. 4E VALVE 's headquarter office and warehouse are located in Stafford, TX.

4E represents Excellent quality, Excellent delivery, Excellent service and all at an Excellent price, and all of its products come with General Liability Coverage. 4E is well aware of what industry expects from a valve product and we are committed to surpass those expectations for our customers and industry at large.
For excellent quality, 4E's quality commitment begins at our API Certified manufacturing facilities which are dedicated to meeting and exceeding applicable API, ANSI, ASTM and other industry standards. The 4E commitment continues with a vigilant quality assurance program.
For excellent delivery, 4E depatches valves from stock within 24 hours after placement of order. 4E maintains a significant inventory of valves and our products are available from 4E distributors and agents in the the United States, North America and overseas.
For excellent service, our staff of trained professionals are ready to provide imeediate answers to your inquiries. 4E strives to quote within the hour of receiving large inquiries via email, fax or any means of communication, for prompt response time often makes the difference in getting the order.
When seaching for excellent quality, fast delivery, superior service and a price to give you the competitive edge, call on 4E for your valve needs.
Contact our Houston Sales Team:

4E Valve
P.O. Box 721109
Houston, TX 77272
U.S.A.
Toll Free: +1(800)496-4042 | Telephone: +1(281)494-4300 | Fax: +1(281)494-0090

Joe

joe@4evalve.com

Jenny

jenny@4evalve.com

Alberto

alberto@4evalve.com

Ben

ben@4evalve.com

William

sales@4evalve.com